As the lunar calendar marks the start of a new year, families across China and East Asia come together to celebrate the New Year. The festive atmosphere is filled with the red lanterns, the fireworks sounds, and the lion dance's energy.
This year six Chinese restaurants initiated the Taste of Chinese New Year Festival and invite you be a part of this special occasion. You will experience some of the new year traditions, from Chinese baijiu to the delicious flavours of diverse menus.


Hot pot is perhaps the food that represents Chinese collective culture the most. Family and friends sit around the steaming hot pot, cooking and sharing.

Hot Pot Republic is the first restaurant which conceptualized "hot pot" in Denmark and made it known among locals. Besides food, it also organizes cultural events such as dumpling workshops and supports artistic activities related to China.
Copenhagen's dining scene has long been missing top-notch Chinese restaurants, so the arrival of Goldfinch came as a delightful surprise.

GOLDFINCH's food embraces traditional Cantonese flavours and is served in a modern setting in the heart of Copenhagen. The food is created using high-quality and ethically sourced ingredients.
Hong Kong cuisine is influenced by Cantonese cuisine but also incorporates elements from other Chinese culinary traditions and Western flavours. Hong Kong is known for its cha chaan teng, or local diners, which serve a mix of Western and Chinese dishes at affordable prices. Two Hongkongese brothers opened LEES KITCHEN in Copenhagen and will now bring us the Chinese New Year food they grew up with.
Taiwanese food is a unique and delicious blend of Fujianese, Japanese, and Southeast Asian influences. It is known for its varied flavors and fresh ingredients.
With the steamed Taiwanese bao in focus, MAOBAO have put together a pan-Asian menu with a Nordic twist. They serve a wide selection from classic dumplings to their own creations.
Cantonese cuisine originates from the Guangdong region of China. It uses a variety of cooking techniques, including steaming, stir-frying, and deep-frying. For example, dim sum is part of Cantonese cuisine. Cantonese chefs are known for their skill in selecting the freshest ingredients and cooking them to perfection. Chef He from H Table wants to give local guests an authentic Cantonese dining experience.
Sichuan cuisine, hailing from the Sichuan province of China, is celebrated for its bold and vibrant flavors. A hallmark of this style of cooking is the incorporation of spicy chili peppers and the distinctive numbing sensation of Sichuan peppercorns. Great China, located in Istedgade, crafts traditional Sichuan flavors in their dishes.
.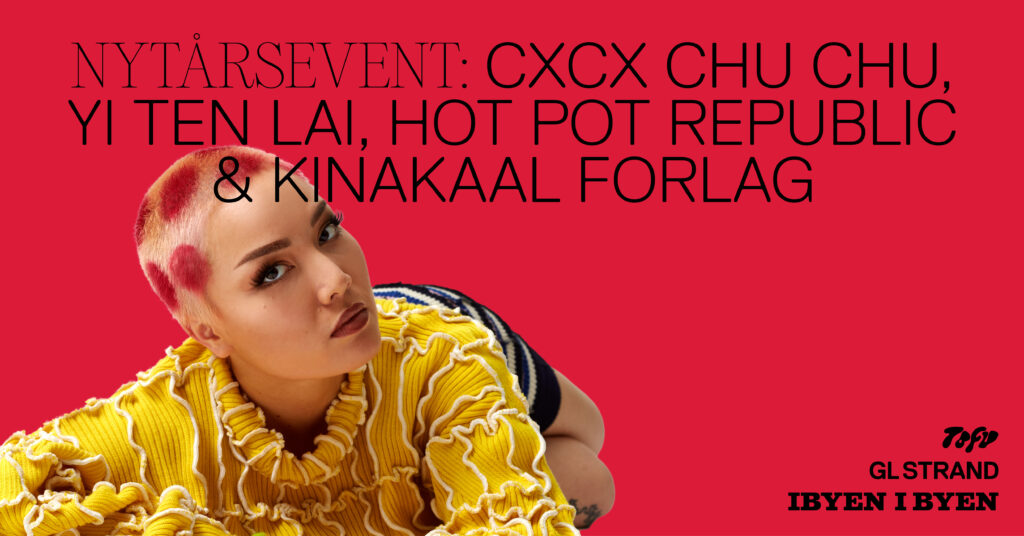 5 Hours of Celebration with Art Experience
Alongside Tofu Collective and Politiken Ibyen, GL STRAND invites you to celebrate the Chinese New Year as part of our current exhibition Stepping Out! Female Identities in Chinese Contemporary Art. Experience, among other things, the Danish-Chinese musician CXCX Chu Chu, a sound performance, book launch, collective hot pot dinner, Baijiu drinks, and much more.

When: Jan 26 17:00- 22:00
Where: Kunstforeningen Gl Strand, Gl. Strand 48, 1202 Copenhagen
Ticket Link: Chinese New Year Event
Performative Hot Pot
Experience the unique and immersive performative hot pot dinner organized by Hot Pot Republic at GL STRAND, where you will be guided on eatable cultural journey that will give you a taste of living in a collectivist culture like China. This one-of-a-kind experience will provide you with a deeper understanding and perspective of Chinese culture, by allowing you to step into the shoes of Chinese individuals.

When: Jan 26, 18.00-18.45 and 19.15-20.00
Where: Kunstforeningen Gl Strand, Gl. Strand 48, 1202 Copenhagen
Ticket Link to the event: Performative hot pot



The Taste of Chinese New Year Festival is a collaborative effort led by Fanshuang Kong of Hot Pot Republic and Will Smith of Goldfinch, bringing together several reputable Asian restaurants in Copenhagen to showcase the diverse culinary traditions and cultural experiences of Chinese cuisine.
The Lunar New Year is an important holiday for many people in East Asia, characterized by rich cultural traditions and special activities. The festival aims to create a new tradition and celebrate the Lunar New Year together with the local community in Denmark, with the goal of increasing understanding and appreciation of the diversity of Chinese food culture.

Contact:
About restaurants and new year menu, please directly contact the related restaurant
About the festival, please contact: fk@hotpotrepublic.dk